The Preferred Santa Cruz Drain Cleaning Team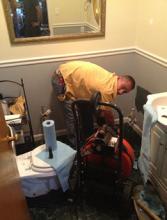 As your home ages so do your pipes and drains. This aging causes the inside of your pipes to become restricted just like hardening of the arteries. This can cause all kinds of issues with high pressure and clogging. When this happens it is time to call our Santa Cruz clog removal specialists.

Our Santa Cruz drain cleaning team can handle of all of your drain clogs including kitchen sinks, shower drains, bathroom drains and main sewer lines. We specialize in state of the art drain cleaning techniques. This allows our professional technicians to find drain clogs quickly and remove them before a major catastrophe happens.


---
Our Santa Cruz Drain Cleaning and Repair Services

Drain clearing
Unclog drains
Drain repair
Drain cleaning
Sewer drain cleaning
Pipe cleaning
Drain clogs
Drain snakes
Clog removal
Preventing Slow Drains

If you have a slow running drain, you may not need our help at all. Often, the cause of the clog is located in the trap beneath the sink. If you can access the U shaped trap and unhook it, you can clear it out yourself. The best way to prevent the clogs in these areas is to place a drain screen over your drain. This will stop things like hair from going down the drain and getting caught. You should also avoid pouring oil or grease down your kitchen drains. The fats congeal in your pipes and cause slow running drains as they pick up other debris going down the drain.


Main Drain Pain

When every drain in your home is running slow you're experiencing a clog of the main sewer drain. This usually happens when tree roots break through into the drain. Cleaning out these roots requires some heavy duty equipment. A power auger or hydro jet can usually clear them out, but in very serious cases, the drain needs to be dug out and either re-routed or replaced.


Why Santa Cruz Should Hire Us For Drain Cleaning

We only hire the most talented plumbers in Santa Cruz, and we like to think to shows. You can expect top quality services done with state of the art equipment by well-trained technicians. Our goal is to exceed your expectations every time.